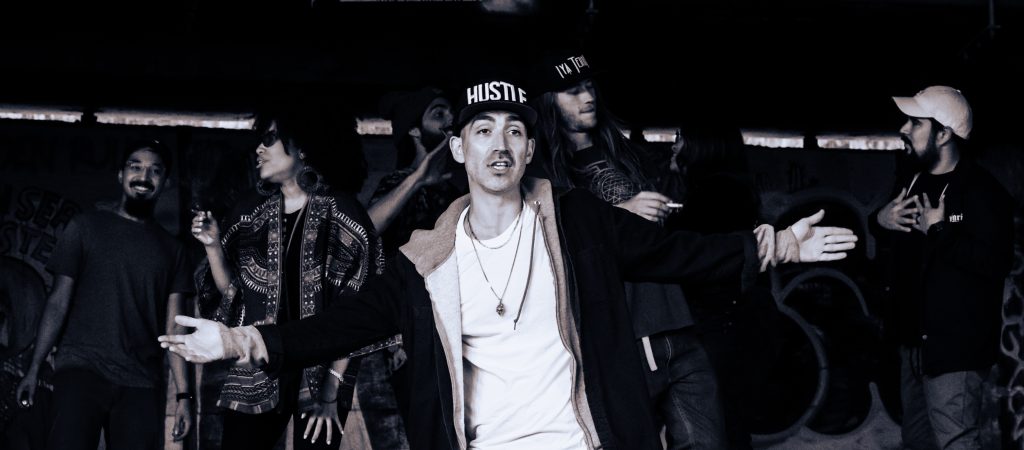 "There are plenty of American reggae acts… but none of them as genuine as Bobby Hustle. Built on a broad knowledge of reggae and dancehall music, Bobby's authenticity is most impressive because it is self-taught and born of a true passion for a genre that most Americans only know through Bob Marley's ubiquitous Legend CD." – Dan Dabber, Reggaeville.com
Seattle, Washington-born reggae songwriter and performer, now residing and recording in Los Angeles. His story and sound are like no one else's!
Bobby was first exposed to Jamaican-style music in middle school when he became fascinated by the island rhythms being re-purposed by third wave ska bands like Sublime, Less Than Jake and Reel Big Fish. His adolescent interest in that sound eventually led him straight to the source and he quickly discovered that Jamaica had a lot more to offer than just ska. He began to explore reggae crafted by Jamaican artists who were popular at the end of the 90s – artists like Anthony B, Capleton, and Sizzla – and he quickly became obsessed. He scoured the Emerald City for any reggae record he could get his hands on, hoping to soak up as much Jamaican music, dialect, and culture as he could.
In 2010, Bobby Hustle began voicing reggae productions and, true to his name, he has worked industriously for labels from all over the world. In addition to his home camp, Loud City Music, he has written and recorded songs for many prominent outfits like the bicoastal American crew, Lustre Kings Productions, and German super-group, Jugglerz Records. Since his debut EP, Always On The Hustle, in 2011, Bobby has released five mixtapes, five more EPs and a full length album, It's The Hustle. In his thirteen year career, Bobby Hustle has contributed songs to over 60 different riddim releases and collaborated with some of the best reggae artists in the world, including the iconic Sizzla Kalonji, prolific artists like Lutan Fyah, Mikey General, Cali P, Collie Buddz, The Movement, Josh Heinrichs and Skillinjah.
All of Bobby's hard work has given him exposure, and he has built a following from all over the world. Bobby's music has taken him to places like Japan, Russia, Germany and Italy. He has performed opening duties for crucial reggae artists like Gappy Ranks, Konshens, Protoje, Mr. Vegas and Third World just to name a few. But his success has not come without obstacles, most notably, a two year stay in Costa Rica beginning in 2016, where Bobby awaited trial for a drug trafficking charge that resulted from a misunderstanding while he was on tour. Determined to fight the charge, he refused to accept a plea deal that would have given him a lighter sentence. Bobby knew he was innocent and decided that he would do everything in his power to keep his freedom. After 22 months there, he was found not guilty of all charges and he was able to return to his friends and family in Seattle in December of 2017.
After his return to the US in 2018, Bobby relocated to Los Angeles. His EP, Wolaba Vibes: The Costa Rica Sessions, a collection of songs he recorded while in Costa Rica, came out in May 2019. In December 2019, he renewed his passport and performed two shows in Israel, making his first trip abroad since his trial in Costa Rica. Little did he know, just a few months later he'd be stuck in one place again…
Lockdown didn't stop him. During the height of the pandemic in 2020, Hustle dropped 19 songs including, "As Good As It Seems". The song was featured on Spotify's editorial playlist "Sunshine Reggae", now with over 2.5 million streams on the platform. In 2021, Bobby continued his pattern of frequent releases by offering up two EPs, Side Hustle and The Right Place, as well as a host of singles.
2022 brought new opportunities for the Hustle. Just as live show restrictions began to lift in Southern California, Bobby started his new band and throughout the latter half of the year, they began to perform regularly throughout the region.
Since the Covid restrictions have now officially been lifted, Bobby Hustle is getting back on the road nationally and internationally. Whether he performs with his backing band or with his DJ, Yungg Trip, one thing for certain is Bobby's undeniable stage presence and his love for the craft of entertaining. So make sure you don't miss the opportunity to see this rising star on a stage near you!!!
BOOKING INFORMATION