Where do I begin? It's been six months since I've been home. A lot has changed. I have a new EP coming out on July 13th, Can't Hold Me, but I'll get to that in a bit. First I should tell you why I've been so quiet for two years…
On January 30th, 2016 I was arrested in Limon, Costa Rica and charged with drug trafficking. Although I was in the country for the sole purpose of promoting my debut album It's The Hustle, I was profiled by police and blamed for a crime I didn't commit. Truly a wrong place, wrong time type thing. I was released from jail after 3 days because a judge said there wasn't enough evidence to keep me locked up during the investigation. However, the court did take my phone, my wallet and my passport! I was charged with drug trafficking and bribery, which are both felony offenses with a recommended sentence of 10-15 years in prison in CR.
Flash forward 12 months later, I had been doing everything in my power to expedite the court date, but to no avail. I found out a 'right to a speedy trial' isn't a thing in Costa Rica, especially for drug crimes. So I spent my days writing lyrics, living simply and avoiding trouble, just trying to keep my head above water mentally and physically.
Eventually in early 2017, I was granted a court date for December of the same year. Even if the world thought I was crazy for testing the system, I knew my innocence would carry me home if I just had patience and faith.
After a complete date change and two postponements, I found myself in court testifying my truth on Dec. 15th. Long story short, the judges ruled in my favor and acquitted me on all charges, citing their distrust of the accusing officer's testimony ('F you Officer Byron!). No one involved went to jail!!! I got my passport back and flew home right away!!!!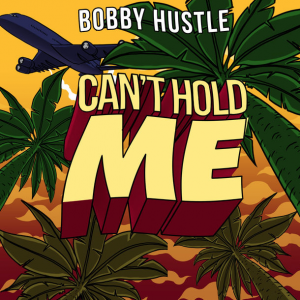 Now I'm back on the west coast US, picking up where I left off. I've already released 7 new singles this year with producers from Jamaica, Costa Rica, USA and Germany. But what I'm most hyped about is my brand NEW EP Can't Hold Me. Produced by my musical family Loud City, I'm giving you 7 more brand new songs for the summer 2018! It drops officially on July 13, worldwide, but you can preorder and support the Hustle here: hyperurl.co/CantHoldMe
Expect much more from me as I build my momentum and start touring again. I can't wait to see you!!!
– Bobby