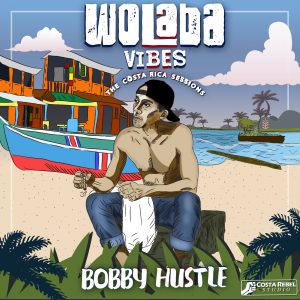 Wolaba is the local term for the area surrounding Puerto Viejo, in Limon Provence, on the Caribbean coast of Costa Rica. Recognizing its strong but unique Jamaican heritage, a new visitor might think they've teleported from Costa Rica to the beaches of Negril. Rice and peas, patties, fresh sugarcane, Jamaican patois and reggae music are all a part of daily life in Wolaba.
     In 2016, Bobby Hustle was on a small two-week, promotional tour of Costa Rica for his debut album It's The Hustle. Unbeknownst to him, Wolabawould become his home for over a year.  The day after his performance in Puerto Viejo, the car Bobby was traveling in was stopped at a checkpoint for a routine search by Police. All of sudden, the cops yelled, "manos arriba!!" and pulled out a vacuum-sealed pound of marijuana. All three of the occupants in the car were arrested immediately and brought to a holding center in the port city Limon. Bobby spent four days in a Limon cell before a convincing public defender was able to negotiate his release. He surrendered his cellphone, his wallet, and his passport to ensure he wouldn't be a flight risk, but at least Bobby was out in the streets. The arraignment judge freed him on the condition that he stay in Puerto Viejo and sign in with the court weekly while awaiting his eventual charges and trial. Bobby found himself trapped in the paradise that is Wolaba…
     Wolaba Vibes: The Costa Rica Sessions is a collection of songs Bobby Hustle wrote and recorded while awaiting trial in Costa Rica. Featuring exclusive production from the Costa Rican musical stalwart Costa Rebel, this six track EP traverses the reggae world. Bobby included a few of his friends from the Costa Rican reggae scene, so English and Spanish converse back and forth throughout the project.  The song "Strong Weed" has a guest appearance from the Costa Rican band Talawa Reggae Army and the roots-driven "Cold World" is a collaboration with another Tico, Rasta Manuel. Wolaba Vibes also boasts combinations with rising Mexican star Jah Fabio on "The Wall" and Suriname/Holland-based roots singer Rapha Pico on the song "Feel No Pain".  The track "I'll Be There" even features the sweet stylings of Costa Rican guitarist Nacho Paez of Cocofunka. Any lover of modern roots reggae, of music with a message in the lyrics, will appreciate Wolaba Vibes: The Costa Rica Sessions.
______________________________
"Everybody love the Yardie vibes in Wolaba,
It come in like Westmoreland had a daughter,
With a Tico from Talamanca,
Negril is her cousin from an estranged father…"
– Bobby Hustle "Wolaba Vibes"